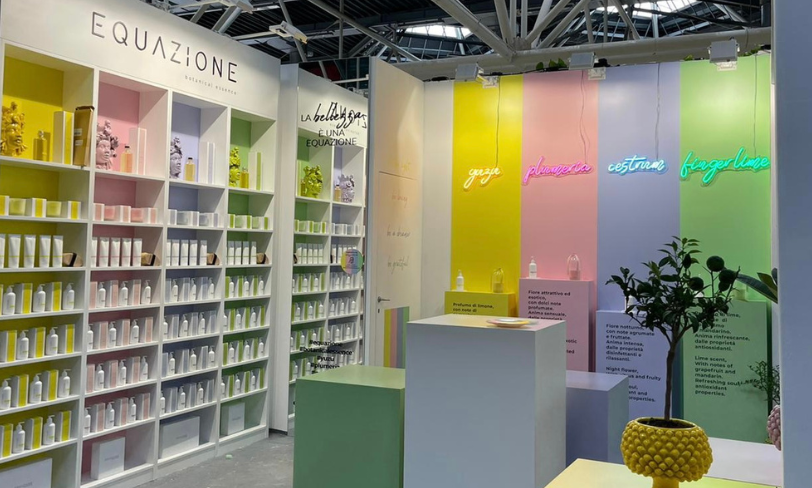 SANA 2022, the 34th edition of the International Exhibition of Organic and Natural Products, was held in Bologna. From 8 to 11 September, the pavilions of BolognaFiere hosted over 700 exhibitors from all over the world.
Equazione Botanical Essence – the 100% made-in-Sicily clean beauty brand born of Giusi Aricò's pharmaceutical knowledge and her husband Michele Faro's experience in botanical floriculture – made its debut in this context fully in line with its philosophy of ultra-natural and sustainable products.The brand played a leading role in the pavilions of the Bologna trade fair with a super-refined and minimalist stand, but at the same time full of references and tributes to Sicily, among Sicilian dark brown heads and plants housed in the typical pine cone-shaped vases of Caltagirone craftsmanship.
In this context, the company presented for the very first time the ambient diffusers in the four fragrances that also define the beauty line and that originate from the use of ancient plants lent to cosmetics: Yuzu, Finger Lime, Plumeria and Cestrum are the botanical ingredients that make Equazione precious. Each fragrance has been obtained in full respect of its active ingredients, combining ancient techniques with advanced technology. The complete line includes: hand cream and soap, body cream, shower gel, scrub, candles. Each product is free of parabens, colouring agents, silicones, mineral oils or any allergens, all meticulously produced for sensory pleasure and beauty rituals.